MODERN INTELLIGENCE SECURITY COMMUNITY, UTOPIA OR REALITY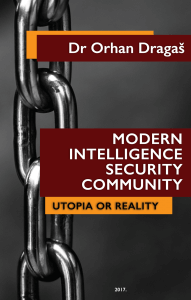 The book, "Modern Intelligence-Security Community, Utopia or Reality," was published in 2009, and the second, revised edition came in 2018. This study addresses the current role and organization of intelligence and security services and structures in a complex world, intertwined with a network of political, trade, cultural and other links. What is the role of intelligence and security services and systems in the world today, what are the goals of these, for each country, vital complexes, how are they organized, and what traditions they cherish? These are just some of the questions the book "Modern Intelligence-Security Community, Utopia or Reality" answers.
The author gives a detailed analysis of the work of the intelligence and security services of some of the most influential countries in the world – USA, Russia, Great Britain, France, Israel, Italy, as well as a careful review of intelligence and security in the Balkans. A special section is dedicated to exploring the possibility of an intelligence and security community at the European Union level. In this book, Dr. Orhan Dragaš specifically addresses the relationship between intelligence and security communities to
contemporary terrorism, as one of the greatest threats to modern humanity.
Due to its actuality and analytical approach, the book "Modern Intelligence-Security Community, Utopia or Reality" serves as literature in teaching international relations and security at universities in Serbia and Eastern Europe.
The book is available for purchase in bookstores:
DELFI
VULKAN
---
TWO FACES OF GLOBALIZATION – TRUTH AND DECEPTIONS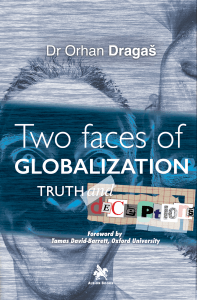 "Two Faces of Globalization – Truth and Deceptions" is Dr. Orhan Dragaš's research into the state of globalization today and the possible directions for its development a decade after the 2008 global financial crisis. The author deals with key aspects of globalization today – economic, political, social and cultural cohesion in the world, in light of the remediation of the effects of the 2008 global crisis. He paid special attention to the three most important entities of contemporary globalization – the United States, the European Union, and China, analyzing their potential to influence the strengthening of global ties, but on the other hand, their potential to weaken and even bring them into crisis. The subject of this study is also contemporary political and social phenomena that are an integral part of globalization 4.0, such as, for example, populist movements around the world, or new media.
The author offers a balanced approach to contemporary globalization processes, denies their ideological character and proves that it is a process that changes its appearance but does not lose its intensity. Among the reviewers of this book, which has had two editions, are some of the biggest names in world economic and international relations theorists such as Steve H. Hanke, Daniel Lacalle, Martin Wolf, Sir Ivor Roberts, Neil Dooley, Jonathan Grant, Emre Alkin.
The foreword for the second edition was written by Dr. Tamas David-Barrett, a professor at Oxford University.
The book is available for purchase in bookstores:
DELFI
VULKAN